Media-bashing Ted Cruz is right
Ted Cruz's focus group dials hits 98 with his attack on media bias. That's the highest score we've ever measured. EVER. - Frank Luntz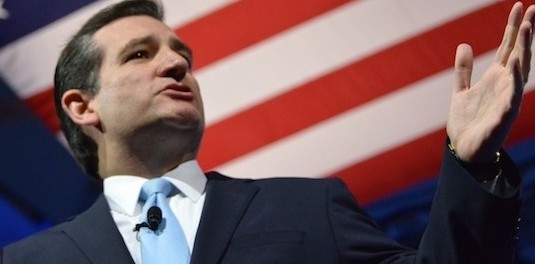 ---
By Erik Wemple October 28 at 10:18 PM
Source Washington Post
---
Speaking at CNBC's main debate in Boulder, Colo., Sen. Ted Cruz (R-Tex.) put the spotlight on the debate moderators saying their questions illustrated why the American people don't trust the media. (CNBC)
Attendees at Wednesday night's CNBC debate likely emerged hoarse into the Boulder, Colo., evening, thanks to Sen. Ted Cruz. With a major-league windup, the tea party candidate threw a beanball right at one of the country's least popular professions: CNBC's questions, charged Cruz, "illustrate why the American people don't trust the media … Donald Trump, are you a comic book villain? Ben Carson, can you do math? John Kasich, will you insult two people over here? Marco Rubio, why don't you resign? Jeb Bush, why have your numbers fallen? How about talking about the substantive issues people care about?"
With the NBC peacock behind him, Cruz basked in the resulting roar. Pollster Frank Luntz tweeted, "Ted Cruz's focus group dials hits 98 with his attack on media bias. That's the highest score we've ever measured. EVER."
Like most media attacks, this one was imprecise, bombastic and un-fact-checkable, which is precisely why quibbling about coverage is such a campaign mainstay. CNBC's question to Carson, for instance, concerned the feasibility of his tax plan, a classic important issue. And the problem facing Sen. Marco Rubio is something that every grade schooler can appreciate — attendance.
During the third GOP debate, candidates got feisty with the CNBC moderators. They took aim at the questions asked, at the "mainstream media" and at the moderators interrupting their answers. (Victoria M. Walker/The Washington Post)
Yet give Cruz the line of the night, if only for his critique of CNBC's question to former Florida governor Jeb Bush: "Governor," said CNBC's John Harwood, "the fact that you're at the fifth lectern tonight shows how far your stock has fallen in this race, despite the big investment your donors have made." After some back-and-forth with Bush, Harwood got to his question, which asked Bush to assess whether Republican "know nothing-ism" is at the roots of his troubles. Cornered by Harwood's premise, Bush uttered a canned and weak response — fodder for pundits piecing together their winners-losers stories.
The question wasn't quite as bad as the one former Arkansas governor Mike Huckabee faced from Fox News's Chris* Wallace back in August: "How do you persuade enough Independents and Democrats to get elected in 2016?" Or the one that Fox News's Martha MacCallum asked Carly Fiorina that same night: "Given your current standings in the polls, is the Iron Lady [Margaret Thatcher] comparison a stretch?" Or the one that CNN moderator Anderson Cooper asked Sen. Bernie Sanders on Oct. 13 about his "electability" given all the material he has offered Republican political ad-makers. Or the multiple other electability questions that commonly get posed to the 2016 candidates on the cable beat.
Continue reading the rest on Washington Post